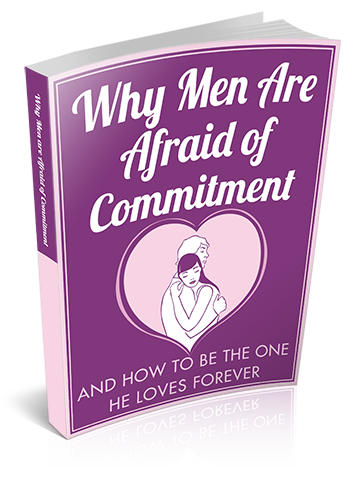 Prevent 'Affection Withdrawal' And Make Him Utterly Devoted And Committed To You.
(Discover The Reasons Why Men Get Cold Feet And Pull Away, And What You Can Do To Stop This From Happening And Make Him See YOU As His Only Future)
Are you struggling to get a man to commit to you?
Do you want to learn the REAL reasons why men get cold feet, and how to prevent this from ever occurring in future relationships?
And finally… Can you state with absolute certainty that the man you love will love you (and only you) forever?
This question is why my friends, highly regarded relationship coaches Mirabelle Summers and Anna Wilson, took a step back and figured out the ultra-powerful mechanisms that give women immediate and lasting assurance that his heart is truly yours forever…
…No matter who else tries to take him away from you, or how old you get.
They figured out the 5 KEY Steps to Getting His Lifelong Love, and they are:
1. Understanding what makes a man instinctively see you as a 'keeper' so that he automatically sets you apart from other women. 
2. Understanding what actually makes a man crave a long-term committed relationship (not just the nonsense you read in magazines or hear from friends).
3. Knowing what makes him move from 'wanting' a long term relationship to actually taking the steps to make it happen with you… so he is the one working to move your relationship forward, while (vitally) thinking it's all his idea.
4. Knowing how to maintain and sporadically deepen his attraction for you over time, preventing the eventual boredom-based desire to stray and keeping his heart and mind focused 100% on you.
5. Knowing how to get YOUR needs met in the relationship without driving him further away, feeling unloved, or losing that sexy, happy feeling of connection as time goes by.
Once they figured out these vital commitment secrets, they set out to write the ultimate commitment manual for women… Where you are going to learn exactly how to get a man's 100% devotion and commitment, no matter whether you've just met or have been together for years and are wanting to move to the next step in your relationship.
This extremely advanced training method uses the proven psychology of behavioral change to make any man, in ANY relationship situation, immediately drop his guard.
No matter how commitment phobic, uncertain, or uninterested he's acting right NOW… 
The moment you apply this method to your relationship, you will see, hear, and FEEL the difference in how he responds to you and pulls you back in… until in just a short time from now, you will hear him telling you that YOU are the one and only woman for him.
Here's a sneak peek of what's inside:
Wish you were prettier? Worried he's losing attraction for you? Here's how to get him to love you for  your flaws (use this and he'll think you're the most attractive, real woman he's ever met even when you're overweight, no longer in your 'prime', or not in as good shape as he is).
How to awaken his 'inner romantic' to get him to show you the love you need, the WAY you need him to show it.
Exactly  what to do step-by-step to keep him committed heart, body, and soul to you and your relationship forever!
What to do if he starts to act weird, pull back, or have 'second thoughts' about you and the relationship (if you don't do this right, you risk losing him forever… this INCREDIBLY SIMPLE technique has repeatedly proven to turn the tables and hook his heart on you where it belongs).
How to use his natural masculine wiring to 'play' him like a fish… This psychological tactic may be a little sneaky, but when it comes to making a man see you as 'The One', THIS is what he will respond to.

And much, MUCH more…