(Once you leave this page, you will never see this opportunity again. These training's not available on any other page, at any price, ever again.)
Okay, since you didn't take up my first two offers, I'm going to give you one final, CRAZY, discount…

I'm going to knock another SEVENTY PERCENT off the already insanely discounted full program price.

And to make it fair to others who purchased at full price, I'll just remove the additional bonus.

Which means you get the entire Make Him Love You Forever Advanced Program, $19.95…

… IF you act right now.
CONNECT and COMMIT:
The Make Him Love You Forever Advanced Program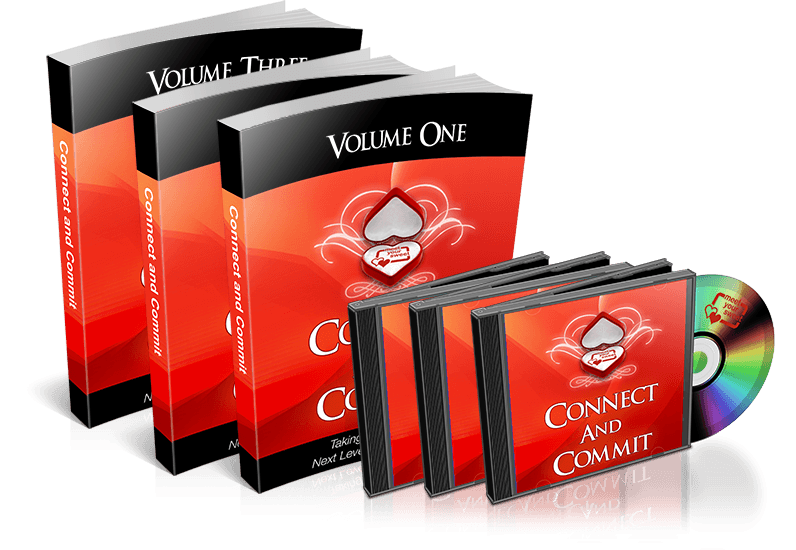 Could have easily sold for $299
Tested and proven to accelerate your results by up to 400% and get you FASTER, QUICKER, more IMMEDIATE results than use of the regular program alone.
Are you struggling to get a man to commit to you?

Or are you in a new relationship, so head over heels you want to speed up the process and make sure he is yours and only yours for good?

We interviewed couples who had made the transition to serious long-term commitment, as well as couples who hadn't, and uncovered some pretty mind-blowing things.

In these 3 volumes of Connect and Commit you are going to learn how to make a man 100% sure that he wants you and only you for his future. So that you can get his full devotion and commitment, no matter where your relationship currently stands.

Here are just a few things you will discover:

The 5 C's of attraction
These 5 things absolutely need to be present in every relationship. When you have all 5, moving your relationship from dating to exclusive will be a walk in the park. If your relationship is missing any of the 5 C's you will need to work on this to ensure your relationship is strong enough to move to the next level.

How Past Relationships Are Affecting Your Current Relationship
We ALL have a relationship history, and it's likely likely that unconscious habits may be keeping you from creating a committed relationship. You DON'T want to let baggage sabotage something that could be wonderful. Discover what you can do RIGHT NOW to make sure your past doesn't ever effect your new relationship.

When Cheating Has Entered The Relationship
The ultimate betrayal of commitment is not divorce or breaking up: it's adultery. I'll show you how to cheat-proof your relationship and restore the love if adultery has occurred.

How To STOP Living In Your Head
We've all done it, over analyzing every little thing your other half said or did. It's detrimental to the future of your relationship, so I'll show you what you must do to get out of your own head and relax and enjoy each moment together.

PLUS the 3 questions you need to ask yourself if you desire to develop a more committed relationship, the 6 stages of commitment, and the 5 things you CAN expect when in a loving and committed relationship.

...And so much more, I simply can't fit it all on this page!
(These instant downloads will be added to your current order)
(Warning: If you leave this page, you might never see this offer again and will miss out on your one and only chance with this amazing discount opportunity.)
ClickBank is the retailer of this product. CLICKBANK® is a registered trademark of Click Sales, Inc., a Delaware company located at 1444 S. Entertainment Ave., Suite 410 Boise, ID 83709, USA and used with permission. ClickBank's role as a retailer does not constitute or imply any endorsement, endorsement or review of this product, or any other claim, statement or notice used in the promotion of this product.
This site and the products and services offered on this site are not associated, affiliated, endorsed, or sponsored by Richard Branson, Tony Robbins and Oprah, nor have they been reviewed tested or certified by Richard Branson, Tony Robbins and Oprah.